Bangkok is a hub of technology and innovation and that is seen with the advancement of some of the top international hospitals residing in Bangkok. If you are considering Bangkok property investment or looking to buy a condominium in Bangkok, then being close to some of these top hospitals is something that is really desirable. This article will go through some information about some of the top hospitals in Bangkok and why you might want to consider purchasing property closeby.
---
SIPH Hospital Bangkok Riverside
Siriraj Piyamaharajkarun Hospital (SIPH), is an excellent international hospital in Bangkok accredited by Joint Commission International (JCI), the gold standard for top quality Healthcare service providers around the world. SIPH Hospital is destined to be one of the best Medical Centers in Southeast Asia, giving top medical services not only to Thai people, but also to foreigners seeking premium medical treatment in this part of the world. The cornerstone of this international hospital on Bangkok's riverside was laid by no less than Her Royal Highness Princess Maha Chakri Sirindhorn on March 17, 2008. The vision of this comprehensive medical centre is to focus on service excellence which is on a level of the best internationally acclaimed standards with premium medical services.
Check the new condominiums for sale around SIPH Hospital and Krung Thon Buri BTS Station.
---
Bangkok Hospital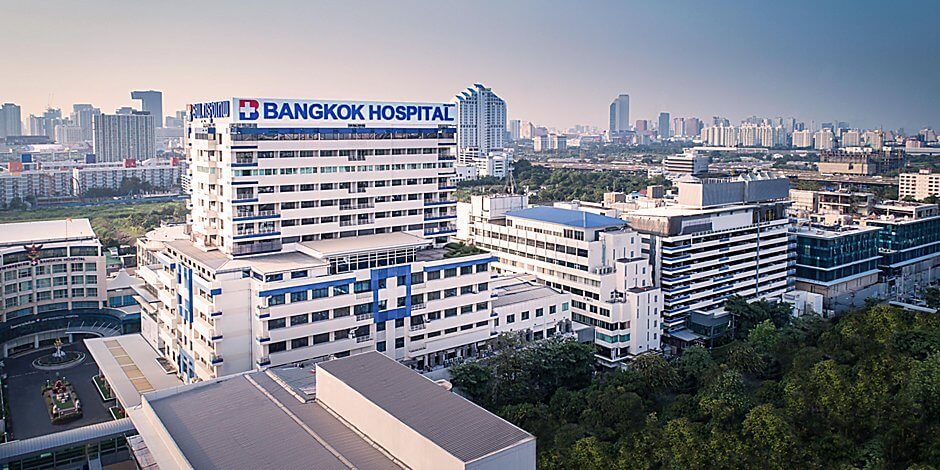 Bangkok hospital was established in 1972 and is one of the first private hospitals to pop up in Thailand. Over the 48 years that the hospital has been operating it has expanded into having separate dedicated cardiology and cancer hospital units. The hospital provides extensive diagnosis, treatment and rehabilitation services, with specialists on call in all major fields of healthcare. All the services from the hospital are accredited by the Joint Commission International, which is one of the most respected associations in healthcare. Being an international hospital, translators are able to communicate in over 26 different languages. The closest public transport from Bangkok Hospital are Phetchaburi MRT Station and Thong Lo BTS Station.
Check the new condominiums for sale around Bangkok Hospital and Phetchaburi MRT Station.
---
Bumrungrad Hospital
The slightly newer hospital opened in 1980 is also a world-renowned health facility. Bumrungrad is the first hospital in Asia to be accredited by the US-based Joint Commission International, receiving its accreditation for five consecutive periods since 2002. The Bumrungrad hospital is a leader in technology and offers extensive personalized cancer treatments and cutting-edge therapies. One example of these therapies in the non-invasive CardioInsight technology for diagnosing heart arrhythmias. This is the only place in the Asia Pacific region where this technology is offered. You can access to Bumrungrad International Hospital from Nana BTS Station and Phetchaburi MRT Station.
Check the new condominiums for sale around Bumrungrad Hospital and Nana BTS Station.
---
Samitivej Hospital
Voted the World's Best Hospital for Medical Tourists in 2018, this hospital is at the forefront of cutting edge technologies, beating many major hospitals around the world. There are 2000+ doctors practicing here across a range of specialties. Patients come from 186 different countries and are given exceptional treatment here! Samitivej Hospital is located on prime Suhkumvit zone, easily reachable from Phrom Pong BTS station or Thong Lo BTS station.
Check the new condominiums for sale around Samitivej Hospital and Phrom Pong BTS Station.
---
Sukhumvit Hospital
The Sukhumvit Hospital, first opened in 1977 was one of the first private hospitals in Thailand that appeared on Sukhumvit road. The hospital is well equipped with a 24-hour specialist cardiac center, and there are 71 Doctors and Nurses on hand for patients. The facility is award-winning with JCI accreditation. The facility itself is full of modern technology and prides itself on innovation in healthcare. Additionally, the hospital is well situated on Sukhumvit main road, near the BTS Ekkamai Skytrain Station.
Check the new condominiums for sale around Sukhumvit Hospital and Ekkamai BTS Station.
---
Kluaynamthai Hospital
Kluaynamthai hospital prides itself on its family-like care towards patients and is granted by the JCI accreditation. The comfortable facilities make it a great hospital to be close to. Some of the facilities in this hospital are very high tech, with some of the executive rooms offering wifi, TV controls, and other room lighting and temperature controls. On top, patients are kept informed by an easy to understand electronic health record. Kluaynamthai hospital can be reached from Rama IV road or from the Phra Kanong BTS station.
Check the new condominiums for sale around Kluaynamthai Hospital and Phra Kanong BTS Station.
---
BNH Hospital
BNH is celebrating its 122nd anniversary this year. This hospital provides a range of services from the Bangkok International Fertility Centre to the BNH Breast Health Centre. The hospital aims to be your choice for the best in personalized healthcare as well as being a hub for clinical excellence. They provide integrated healthcare and wellness. The BNH hospital can be reached either from Sala Daeng BTS Station, Silom MRT Station and Chong Nonsi BTS Station.
Check the new condominiums for sale around BNH Hospital and Chong Nonsi BTS Station.
---
Bangkok Christian Hospital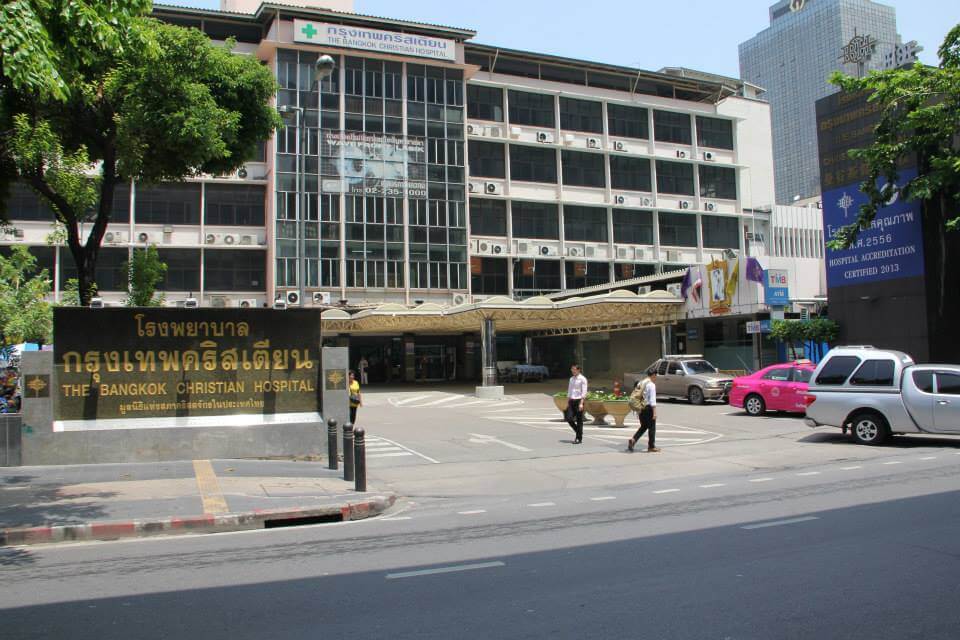 The Bangkok Christian Hospital is one of the earliest-established, non-profit, hospitals in the area, opening its door in 1840 with a mission of healing and evangelism. At present, it has special centers for Refractive care, skincare and laser, health screening, dental care and other specialized departments such as obstetrics, pediatrics, orthopedics, and radiology. On the whole, it provides an excellent experience and is considered to be a lot cheaper than many of the private hospitals in the area. Located on Silom main road, you can reach the Bangkok Christian hospital from Sala Daeng BTS Station and Silom MRT Station.
Check the new condominiums for sale around Bangkok Christian Hospital and Sala Daeng BTS Station.
---
Saint Louis Hospital
The Saint Louis Hospital is a non-profit private general healthcare center. The hospital specializes in using highly modern equipment, air-conditioned rooms and private environments for patients and their families. You can get anything from a standard room for THB 1,390 to a President Suite for THB 10,000. There is a wide range of treatments available from Pulmonary and Respiratory to Chinese Traditional Medicine. Located on Sathorn main road, Bangkok, you will be a short distance away from the recently opened Saint-Louis BTS Station.
Check the new condominiums for sale around Saint Louis Hospital and Saint–Louis BTS Station.
---
Phyathai 2 Hospital
As well as providing exceptional medical treatment in areas such as oncology and infectious disease, this hospital is also well equipped with a beauty center for cosmetic procedures. Additionally, the Women's Center at Phyathai 2 hospital provides excellent pregnancy and menopausal care. The wellbeing of patients is at the forefront of this hospital's ethos. The hospital has 260 beds for in-patients and a further 76 diagnostic rooms. Phyathai 2 hospital is well situated closeby to Sanam Pao BTS Skytrain station.
Check the new condominiums for sale around Phyathai 2 Hospital and Sanam Pao BTS Station.
---
Piyavate Hospital
Another fantastic international hospital on this list is Piyavate Hospital. Some of the services provided by the hospital include laser eye surgery and cataracts treatment, as well as treatment for patients with diabetic foot ulcers. This hospital is publicly owned and is known within the city for providing some of the best healthcare for its patients. Recently the hospital expanded to have 300 beds so that it can increase the number of patients that can be residents at any time. Piyavate Hospital can be reached from Rama IX main road or Phra Ram 9 MRT Station.
Check the new condominiums for sale around Piyavate Hospital and Phra Ram 9 MRT Station.
---
Praram 9 Hospital
The hospital was set up by a number of medical professionals to provide a wide range of state of the art technologies and facilities. With more than 300 physicians and a range of medical treatments, the hospital is packed with the latest in medical technology. The hospital is accredited by the Joint Commission International, giving it high praise for its innovative medical practices. A new hospital, opening in 1992, the hospital has worldwide recognition. Praram 9 hospital is easily accessible from Phra Ram 9 MRT Station.
Check the new condominiums for sale around Praram 9 Hospital and Phra Ram 9 MRT Station.
---
Overall, if you are looking to invest in property in Bangkok or purchase a condominium in Bangkok then you will not be disappointed by the innovation in healthcare available nearby. Providing world-class medicine, Bangkok is an excellent place for a fantastic quality of life. Just looking at the range of hospitals available in the city, you can really get a feel for the internationally recognized excellence. When looking to purchase a property in Bangkok having these fantastic healthcare services closeby will ensure you get the best out of your investment, whether you intend to live in the property or rent it out.