If you are looking to invest in property in Bangkok, then you'll be pleased to know that the city is surrounded by an array of beautiful green parks and landscapes. Not only Bangkok has wonderful green spaces, but the city is setting out to expand them even more! If you are looking for Bangkok property for sale, then the areas around these beautiful parks are a fantastic place to look! Here is a list of the rare parks in Bangkok, waiting to be discovered by you.
---
Lumpini Park
The Lumpini park is situated right in the heart of Bangkok and it is possibly the most well-known and loved one on this list. The park itself spans over 500,000 sq m and is full of amazing flowers and animals! On-site facilities include paddleboats, playgrounds, a basketball court, and an outdoor gym! You can reach the Lumpini park seamlessly from the MRT Silom Station.
Check the new condominiums for sale around Lumpini Park and Silom MRT Station.
---
Angoon Garden Thonglor
Angoon Garden is a perfect sized green area in one of Bangkok's busiest street for people to relax and enjoy time with the kids. Angoon Garden is located just at the front of Thonglor Soi 3. Your Pre schoolers and toddlers can safely roam around Angoon Garden and play in the shady areas. There are also occasional educational events such as puppet shows.
There is an onsite shop that sells second hand merchandise, including kids and baby gear and even small appliances. At the Angoon Garden there's a corner which sells fresh organic produce and also a Cafe with desserts, food and drinks.
Check the new condomiums for sale around Angoon Garden and Thong Lo BTS Station.
---
Benjakiti Park
This beautiful park provides some of the best views of the famous Bangkok skyline! With a large lake in the cycle and a running/cycling track around the outside, it is an excellent choice for sports enthusiasts. Other features include an amphitheater, skate park and meditation zone. Behind this park is the hidden extension to the park, added in 2016, spanning 97,600 sq m of small tree clusters that create a beautiful forest! Development of this park as Benjakiti Forest Park includes a huge triple extension and a bicycle track that will link it to Lumpini park! Benjakiti park is easily accessible either directly from Queen Sirikit MRT station or by a short walk from Asoke BTS Station.
Check the new condomiums for sale around Benjakiti Park and Asoke BTS Station.
---
Benjasiri Park
This park, referred to as the "Queens Park", commemorating her 60th birthday, is another beautiful park on the list, filled with facilities and weekly activities! Here you can enjoy a sports area, nice green space to relax, and playground. Benjasiri Park is at the foot of Phrom Pong BTS Station, just beside the Emporium shopping center.
Check the new condominiums for sale around Benjasiri Park and Phrom Pong BTS Station.
---
Pathumwanarak Park
This park is perfectly located, right next to the CentralWorld and Siam Paragon shopping malls. The main aesthetic features of the park include a large lawn, with the Thai symbol for 9 carved into it, to commemorate King Rama 9. There is also a lake and many sidewalks. Pathumwanarak Park offers a convenient location, being reachable from Siam BTS Station and Chit Lom BTS Station.
Check the new condominiums for sale around Pathumwanarak Park and Siam BTS Station.
---
Chulalongkorn University Centenary Park
This park, designed to mitigate some of the issues of climate change, added much-needed green space to the downtown city area. This park contains the largest green roof in Thailand. Chulalongkorn University Centenary Park, designed by architects, seeks to educate the people on the effects of climate change on the natural landscape. You can access to Chulalongkorn Centenary Park from Phayathai road or from Sam Yan MRT Station.
Check the new condominiums for sale around Chulalongkorn University Centenary Park and Sam Yan MRT Station.
---
Suan Phlu Park
Suan Phlu Park is also a great park located in Bangkok downtown near Sathorn financial district, in the residential area of Suan Plu, Nanglinchee and Yennakart. It is a small boutique park with a 300m x 200m size. Within the park, you will find different exercise zones, waterways, great water features, and plenty of big fish. There's a spot in Suan Phlu Park where you can buy food to feed the fish as well. If you have kids, this is a good and safe activity to enjoy. Picnics can be done here too as there are a few seating areas under the shade and around the waterways. The closest public transport from this park are Chong Nonsi BTS Station and Lumphini MRT Station.
Check the new condominiums for sale around Suan Phlu Park and Chong Nonsi BTS Station.
---
Santiphap Park
Santiphap Park, also known as the Peace Park in Bangkok, is at walking distance from Victory Monument BTS Station or Phaya Thai BTS Station. This park is ideal for morning and late afternoon trips. The place is busy with tourists during the afternoon, which is not normal for a park in the City. Although smaller than other parks, there is a better vibe and community presence here. Stacks of magazines are available in one area and it can be used by anyone who wants to sit and read while enjoying the park view.
Check the new condominiums for sale around Santiphap Park and Phaya Thai BTS Station.
---
Hide Park Silom
You will see a black wrought iron gate opening into a winding green lawn with scattered Bistro chairs at this garden paradise in located in Silom-Sathorn CBD. Be seated and get a table in the garden to enjoy all day breakfast under the swaying trees and the mini waterfall. Enjoy salads, pizzas and beer and also organic drinks if your thing is health beverages. Hide PArk Silom is located few meters away from the newly opened Saint-Louis BTS Station on Sathorn Road.
Check the new condominiums for sale around Hide Park Silom and Saint-Louis BTS Station.
---
Chao Phraya Sky Park
It is a relatively new spot of greenery to pop up in Bangkok with trees and shrubs rising on top of the busy Chao Phraya River. Have a break at Chao Phraya Sky Park while you're enjoying the natural setting, barges, ferries and leisure boats riding the waters underneath. This pleasant park is actually using the site of an electric railway bridge project which was not completed 3 decades ago.
Chao Phraya Sky Park is located within walking distance from Pak Klong Talad, the flower market of Bangkok. Chao Phraya Sky Park is a great place for recreational photography to capture the sunrise or sunset.
Check the new condominiums for sale around Chao Phraya Sky Park and Saphan Taksin BTS Station.
---
Chatuchak Park
This is one of the oldest parks on this list and its fantastic legacy provides one of the most beautiful green spaces in the area. The park is small and quaint, with an artificial lake that runs all the way down the thin and long park. It is also home to the State Railway of Thailand train museum. Nearby you will find the Chatuchak weekend market too! Easy ride to this park with the Chatuchak Park MRT Station and Mo Chit BTS Station being located just beside.
---
Queen Sirikit Park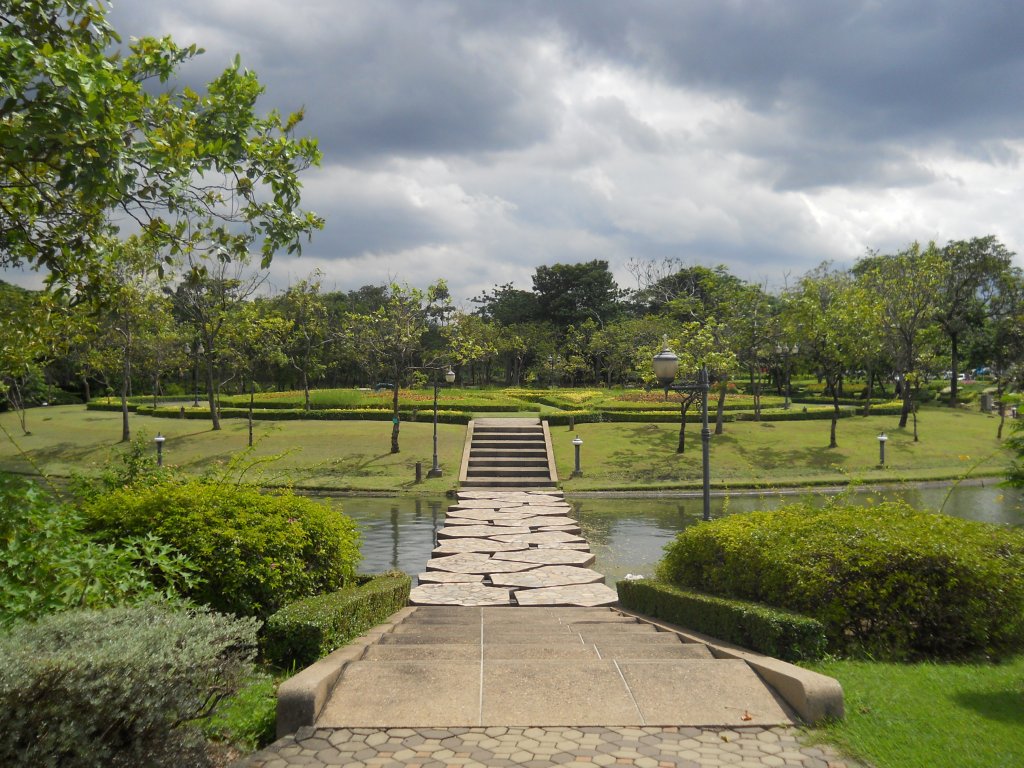 This park is a beautiful botanical garden is connected to the Chatuchak Park in the Chatuchak district of Bangkok. Here is the home of many plants and animals, including beautiful butterflies that reside in the park's unique ecosystem. The park is home to many banana cultivars, palm tree cultivars, hibiscus, lotus, and waterlilies. A short walk from Chatuchak Park MRT Station and Mo Chit BTS Station will head you to this park!
---
Vachirabenjatas Park – Suan Rot Fai
Formerly the State Railway of Thailand's golf course, this was recently converted into a 150-acre park for locals. This park is connected as well to Chatuchak Park and is popular for cycling, providing cheap bicycle hire (around $0.70 for 3 hours). This park is fantastic for a family day out as many families are seen to cycle around this area on a daily basis. Vachirabenjatas Park is at walking distance from Chatuchak Park MRT Station and Mo Chit BTS Station.
---
Future Makkasan Park Plan
The final entry on this list is just to show you what is to come for the future of green spaces in Bangkok. The city is considering a 200-300 billion baht on this project, for this public and commercial development park. This project has also been dubbed "Bangkok's Central Park", with comparisons to New York's famous park! This land leased out by the SRT to CP Group is set to bring new life to the area! About 150 rai of the land is planned to be included in the high-speed train project linking three airports; Suvarnabhumi, Don Muang and U-Tapao as part of the Eastern Economic Corridor (EEC) scheme. This huge plan is going to happen right under the Makkasan Airport Link Station, also reachable with a short walk from Petchaburi MRT Station.
Check the new condominiums for sale around Makkasan Park and Makkasan Airport Link Station.
---
Overall, it is clear that current and future park developments in and around Bangkok are world-class and have great potential for development! You'll want to consider the value these parks offer for property investment in Thailand! With a focus on providing leisure facilities for its residents, it is truly worth the investment. For those scouting for a condominium to buy in Bangkok, do not forget the proximity of a park as it will boost the value and attractivity of your property. When looking for condominiums for sale in Bangkok, then choosing a property close to any of these parks would be an excellent choice!