Thailand and Bangkok, in particular, are being hotspots for fashion tourism around the world. Bangkok sports a range of large fashion malls filled with over 500 Thai and International Brands and Outlet stores. The popularity of these malls is causing real estate close by to become a real hotspot of interest. Purchasing real estate close to these shopping centers will be an excellent investment, particularly as luxury brands attract wealthier clientele. Condominiums for sale in Bangkok can provide amazing access to these facilities and are a fantastic investment.
You will be close to popular shopping malls such as Bangkok Fashion Outlet, Platinum Fashion Mall, Terminal 21 and Ei8ght Thonglor. Here is a summary of some of the features of the local fashion-experience shopping malls. All of these shopping malls provide a wide range of shopping, dining experiences, entertainment, activities, sport, wellness, health and beauty.
---
Bangkok Fasion Outlet
Bangkok fashion outlet is a discount outlet store located in downtown Bangkok. Containing over 500 brands from around the world and offering up to 90% off on famous brands, it can really attract a lot of crowds. At the outlet mall, you can shop from popular fashion brands to accessories and luggage. Located on Silom Road, you can reach this mall from Surasak BTS Station or Chong Nonsi BTS Station.
Check the new condominiums for sale around Bangkok Fashion Outlet and Chong Nonsi BTS Station.
---
Platinum Fashion Mall
The platinum fashion mall specializes in the wholesale of clothing and accessories. The mall has 4 floors and contains over 1,300 stores. This air-conditioned mall is also home to a very large food court with a range of cafes and fast-food restaurants. Additionally, the 4-star hotel, Novotel Bangkok Platinum is located there. The Platinum fashion mall is a great place for haggling and buying 3 or more items from the same store can get you a 10-30% discount for bulk buying. Located on Phetchaburi road, the closest public transport is Chit Lom BTS Station
Check the new condominiums for sale around Platinum Fashion Mall and Chit Lom BTS Station.
---
Terminal 21
Terminal 21 is another shopping mall known for having lots of brands at reasonable prices. But, it is also home to an amazing Gourmet Market, filled with lots of sweets and treats! One of the most popular is the ChaTraMue traditional Thai tea ice-cream, which is a traditional staple. The floors at terminal 21 are themed to different countries so the shopping experience really makes it feel as if you are traveling the world. Very convenient access to this shopping center with a sky-bridge connected to Asoke BTS Station.
Check the new condominiums for sale around Terminal 21 and Asoke BTS Station.
---
Ei8ght Thonglor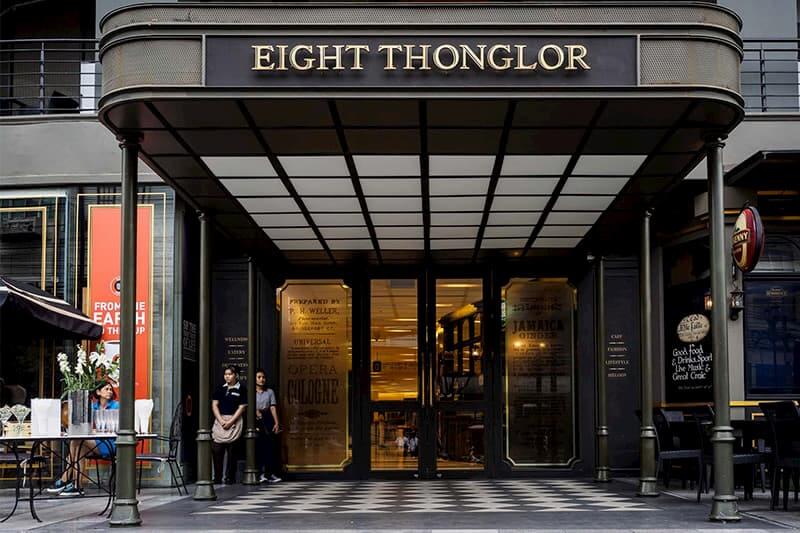 A little more high-end mall, known for being frequented by Bangkok's local trendsetters and celebrities, this mall is a little more than just high street shopping. As well as being able to find many of your favorite luxury brands, there is also a yoga study and beauty therapist available. The mall describes itself as a "sophisticated lifestyle mall" and it rings true as there are many leisurely activities to be had under its roof. Located on Thonglor main road, you can reach this mall from Thong Lo BTS Station.
Check the new condominiums for sale around Eight Thonglor and Thong Lo BTS Station.
---
MBK Center
Finally, the last shopping center on this list is the huge 8-story mega-mall located in central Bangkok. This mall contains deals over a mind-blowing 2,300 shops and when it opened in 1985 it was the largest mall in Asia. It still has a great reputation to stand by and for good reason. The mall contains an arcade and bowling alley on the top floor as well as a multiplex cinema, costing only around $5 for premium seats! Not only is it full of fantastic brands but there is so much more to do here. This shopping center can be reached easily with a sky bridge from the National Stadium BTS Station.
Check the new condominiums for sale around MBK Center and National Statium BTS Station.
---
If these shopping malls interest you then you may be interested in properties for sale in Bangkok. These malls are only the start and Bangkok is undergoing huge development, particularly within the fashion and leisure industries. There is no better time to buy a condominium in Thailand. You may be interested in checking out some condominiums on www.kellerhenson.com, which contain a selection of the best new condominiums in the area. Bangkok property investment is hot news, the team at Keller Henson can assist to find real estate targeted for returns on your investment and is confident that you will be getting the best property in the area.